On September 27, 2023, at Ton Duc Thang University, the Faculty of Business Administration had a welcoming and working session with representatives of Taylor's University (Malaysia).
Attending the meeting, on behalf of Taylor's University, we welcomed Ms. Sumana Lum Lai Ping - Director of Cooperation, Admissions, Communications & Marketing; Mr. Pee Zhen Yu - Admissions Director, in charge of the Vietnamese market.
Representing Ton Duc Thang University and the Faculty of Business Administration, we had the presence of the Vice Dean, Head of Hospitality Management Department and lecturers in charge of international cooperation of the Faculty, along with representatives of relevant departments.
The meeting included reviewing and evaluating the positive changes of the joint training program between the Department of Hospitality Management - Faculty of Business Administration and Taylor's University, agreeing on the direction of cooperation in many fields, including the discussion on the orientation of exchange, cultural exchange, and cooperation programs to improve qualifications in Malaysia for lecturers, officials and students of Ton Duc Thang University as well as for lecturers and students of Taylor's University; organizing international conferences, seminars, scientific discussions, exchange of knowledge, professional and academic experience in training management and scientific research and a number of exchange activities other.
At the meeting, leaders and representatives of both sides expected the potential for deeper cooperation based on the existing strengths as well as the development orientation of each school. The two sides emphasized the practical effectiveness of the cooperation program, with the common goal of aiming for strong development in the coming time for both schools.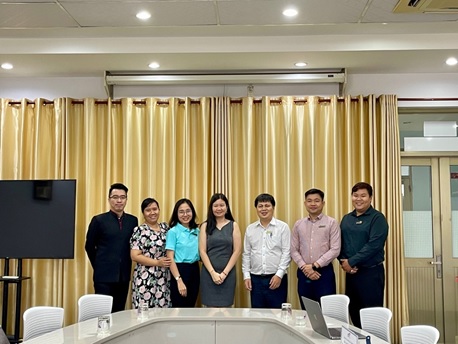 Vice Dean and lecturers from Department of Hospitality Management at the meeting with Taylor's University.